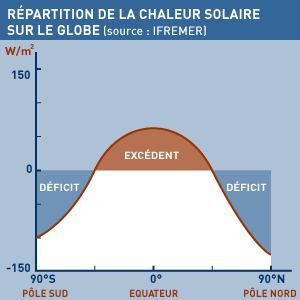 OUR EARTH'S HEATING SYSTEM: THE SUN
Our planet has an excellent source of energy: Sun. When solar radiation (i.e. the Sun's rays) reaches the Earth's atmosphere, part of it is reflected back outwards and part of it is absorbed by the atmosphere. The rest reaches the Earth's surface, where once again, part is reflected back and part is absorbed. The atmosphere and the surface (both land and ocean) are heated, and thus emit infrared radiation out towards space. The overall difference between incoming and outgoing energy is known as the net radiation or radiation balance, and it can be stated for a region or for the planet as a whole.
HOT IN THE TROPICS, COLD AT THE POLES
The Sun does not heat all parts of the Earth to the same extent; the Equator receives more energy than the poles. This is because the Earth is round and spins leaning over in relation to the Sun. So at the poles, the Sun's rays hit the Earth at a very flat angle and they also have to pass through more of the atmosphere so more of their energy is absorbed. Lastly, the heat input is shared over a larger surface.
TWO COLD POLES
In winter, the nights in the polar regions are very long. Without the Sun's heat, it is very cold. Furthermore, the Earth continues to emit infrared radiation outwards so it continues to lose heat. In summer, the white snow and ice act as a giant mirror, reflecting back the Sun's rays and absorbing very little (the albedo effect). Over a year, the polar regions lose more energy than they receive.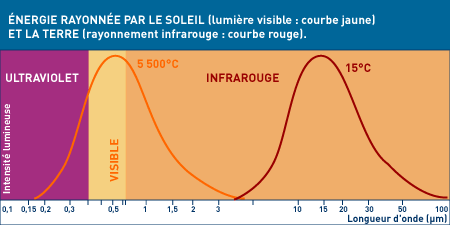 HEAT EXCHANGES AROUND THE GLOBE
In theory, the polar regions should keep getting colder and the tropics hotter, but a lot of the excess heat received by tropical zones is absorbed by the oceans and the atmosphere, so the ocean currents and winds transport it to cooler regions, helping to establish an overall balance. However, the Earth's overall radiation balance (or net radiation) can be positive, which means the planet is warming up, or negative, which means it is getting colder.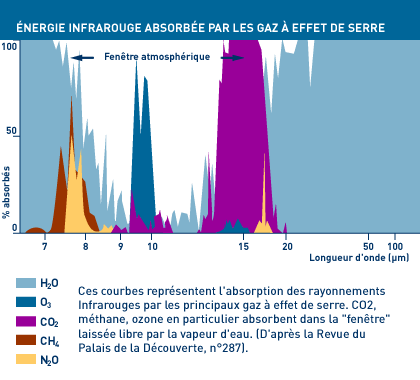 VISIBLE (LIGHT) AND INVISIBLE (INFRARED) RADIATION
Most of the radiation emitted by the Sun is short-wave (<4µm) electromagnetic radiation, which includes visible light. Part of this energy is re-emitted back outwards by the Earth in the form of long-wave (>4µm) electromagnetic radiation, known as infrared or heat radiation. The Earth, like our bodies when they are hot, radiates heat outwards.
Currently, the total energy received from the Sun, as measured at the edge of the Earth's atmosphere several dozen kilometres up, is on average 340 Watts per square metre (W/m2). In fact, this would be 1,368 W/m2 if the Earth was a flat surface perpendicular to the Sun, but the Earth is really a globe. The atmosphere and the Earth's surface reflect outwards about 30% of this radiation. The rest, about 240 W/m2, is absorbed and converted into heat, serving to maintain the planet's temperature and to drive circulation in the atmosphere and the oceans, to evaporate water, etc., thus powering the "heat machine" we live on and regulating its climate.
Approximately the same amount of the Sun's incoming energy (240 W/m2) is emitted back into space.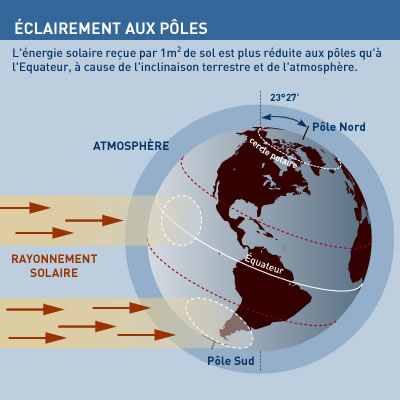 POLAR SUMMER AND WINTER
In the upper latitudes there is no solar radiation in winter. Night lasts for 6 months at the poles, 4 months at 80°N/S and 2 months at 70°N/S. This means it gets very cold: not only is there very little heat input but emissions of infrared heat radiation continue (albeit somewhat reduced by the snow and the pack ice which form an insulating mantle).
In summer, on the other hand, the poles receive solar radiation 24 hours a day, which has a marked warming effect. For a period of about 2 months, around the summer solstice, the number of calories per square metre received each day is actually greater at the poles than at 40°N/S. The effect of this is accentuated by other factors (orientation, etc.), so that temperatures are sometimes quite high during a short period of the year. However, the sun stays quite low in the sky, thus reducing radiation (150 W/m2) and the snow and ice reflect up to 80% of it (albedo effect). So the amount of energy reflected back by the Earth into space is always quite large at the poles, even in summer. Because of this, the ice caps always remain and the ice pack melts quite late in the season.
THE SUN'S ENERGY REFLECTED BACK BY THE EARTH
| | |
| --- | --- |
| Cold fresh snow | up to 90-98% |
| Melting snow | 50-60% |
| Slush (dirty) | 40% |
| Glacier | 50% |
| Ocean | 5-15% |
| Sea ice | 50-85% |
| Desert sands | up to 35% |
| Bare rock | 20-25% |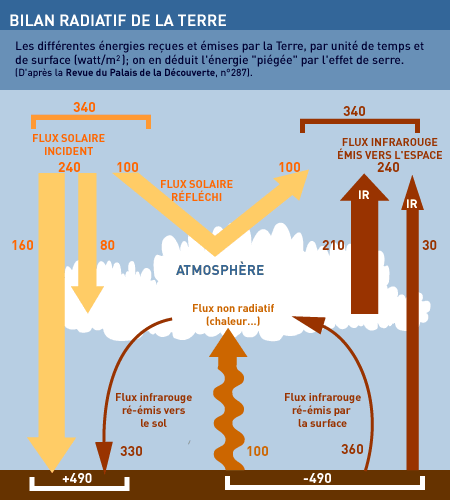 EFFET DE SERRE ET BILAN RADIATIF
Si l'atmosphère était totalement transparente au rayonnement infrarouge émis par la Terre, il ferait beaucoup plus froid (en moyenne -18 °C) ; mais l'atmosphère (gaz, vapeur d'eau) absorbe une partie de ce rayonnement et renvoie à son tour un rayonnement infrarouge vers la Terre, qui conserve ainsi une température moyenne de +15 °C : c'est l'effet de serre.
La température à la surface due à ce phénomène correspond à un flux thermique IR ascendant de quelque 390 W/m2 ; 240 seront perdus vers l'espace, l'atmosphère en retenant 150 (effet de serre) ; à cela, se rajoutent dans l'atmosphère 100 W/m2 d'énergie non radiative "remontant" du sol (convection…) et 80, absorbés directement sur les 240 d'énergie solaire incidente. C'est donc en fin de compte 330 W/m2 qui se trouvent "pris" dans l'atmosphère et rayonnent vers le sol (flux thermique IR descendant).
Toute augmentation de l'effet de serre tend à augmenter ce bilan, en diminuant l'énergie émise.
DES SATELLITES AU CHEVET DE LA TERRE
Le climat est la conséquence du bilan radiatif planétaire. Connaître ce bilan avec le maximum de précision est un enjeu essentiel pour surveiller l'évolution des climats. Les satellites mesurent le bilan radiatif au sommet de l'atmosphère, en watts par mètre carré. Lorsque le bilan global est nul, la Terre reste en équilibre thermique. Si ce bilan devient positif, la Terre se réchauffe ; s'il est négatif, elle se refroidit.
Toutes les dernières mesures semblent indiquer un bilan positif.
LE COIN DES PHYSICIENS
Tout corps émet une énergie thermique W (en joules) équivalente à celle d'un "corps noir", uniquement fonction de sa température absolue T (en Kelvin) selon la loi W=sT4, où s est un coefficient constant (loi de Stephan). Ainsi en est-il du Soleil, mais aussi de la Terre, de l'océan, de la glace, etc.
LE SAVIEZ-VOUS ?
Notre planète n'intercepte qu'une toute petite partie (un milliardième) de l'énergie émise par le Soleil. Ce qui correspond tout de même à 10 000 fois plus de puissance (175 millions de mégawatts) que celle consommée par l'humanité ! Le flux géothermique issu de la chaleur interne de notre globe est, quant à lui, 4 000 fois inférieur (0,09 W/m2).
La glace de mer est capable de stopper presque totalement les échanges entre l'océan et l'atmosphère. On parle de couvercle thermique. L'étanchéité de ce couvercle dépend de sa distribution et de son épaisseur. Elle présente cependant une certaine transparence vis-à-vis du rayonnement solaire qui rend possible la pénétration partielle de la lumière visible dans l'océan et le développement d'organismes marins sous la glace.
Support the project with a donation
The Polar Pod expedition is one of the stamp of the pioners, a human adventure coupled with a technological challenge, an oceanographic exploration never before carried out which will mark a milestone in the discovery of the oceans.

Thank you for your support !
Make a donation