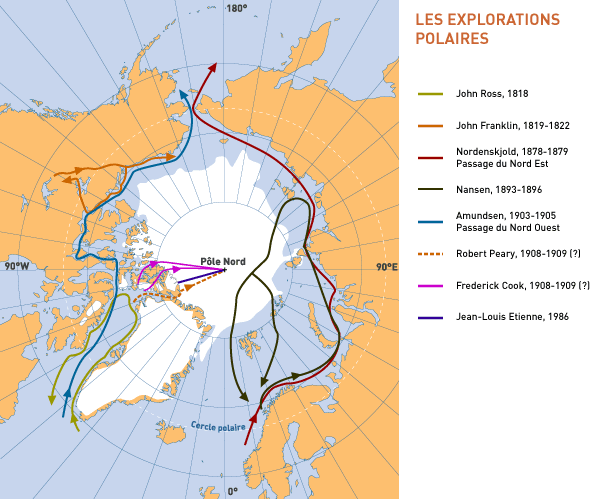 DISCOVERY OF THE ARCTIC DRIFT CURRENT
In July 1879 an expedition aboard the vessel "La Jeannette" passed through the Bering Strait hoping to reach the North Pole. In June 1881, the vessel was crushed by the ice. Three years later, Eskimos found the wreckage on the south-west coast of Greenland, 5,000 kilometres from where the vessel was wrecked. This was the first indication of the existence of a transpolar current.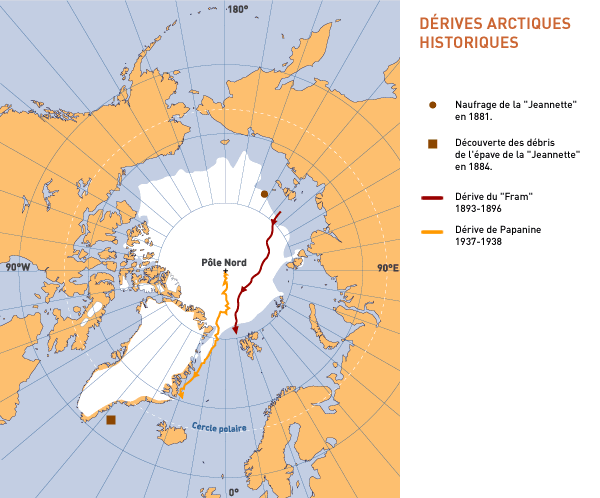 NANSEN AND THE "FRAM", TRAPPED IN THE ICE ON PURPOSE
In 1893, the Norwegian explorer Fridtjof Nansen became the first to use the Arctic Drift in an attempt to reach the North Pole. His vessel, the "Fram", was specially designed to resist the pressure of the pack ice. Once trapped in the ice, the ship drifted for 3 years before being released by the ice to the north of Spitsbergen, but without drifting to the Pole. In 1937, the Russian Ivan Papanin set up the first scientific station on the drifting ice pack at the North Pole.
OVER THE ICE TO THE POLE
In 1908 and 1909, two Americans, Peary and Cook, each claimed to have reached the North Pole. After years of investigation, America's National Geographic Society finally declared that it was Peary who had made it to the Pole. Cook was quickly discredited but doubts remain about the speed with which Peary and his team claimed to have made the journey from northern Canada to the Pole and back.
By the time Jean-Louis Etienne reached the North Pole solo pulling his sled, on 11 May 1986, only six expeditions had reached the pole "overland": Ralph Plaisted (USA, scooter, 1968), Wally Herbert (UK, dog sled, 1969), Uemura Naomi (Japan, dog sled, 1978), Ranulph Fiennes (UK, snow scooter, 1979), Dimitri Shparo (USSR, skis, 1979), four Finns (skis, 1984) and Will Steiger (USA, dog sled, 1986), whom Jean-Louis Etienne was to meet en route to the pole.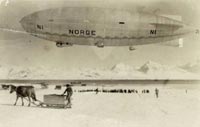 LE PÔLE PAR LA VOIE DES AIRS
La première tentative revient au suédois Andrée et deux équipiers à bord de l'Ornen (Aigle), un ballon à hydrogène qui décolla du Spitzberg en juillet 1897. On resta sans nouvelle jusqu'à la découverte de leur sépulture par un phoquiers sur l'Ile Blanche (Svalbard) en 1930 (33 ans après), une île qu'ils avaient rejoint à pied après un échouage sur la banquise deux jours après. Le 15 août 1909 le patron de presse américain Wellman tente son troisième vol en direction du pôle (1906 et 1907) à bord de l'America, un dirigeable souple de 57 m de long, assemblé et gonflé à l'hydrogène dans un hangar construit au Spitzberg à l'endroit même où Andrée avait décollé. Il ne volera que quelques heures et sera contraint à l'abandon.
Le 9 mai 1926, l'Amiral Byrd et son équipier Floyd Bennett décollent en avion du Spitzberg et reviennent plus tôt que prévu (avec une fuite d'huile), en déclarant avoir atteint le pôle Nord. Des doutes persistent sur ce succès. La même année, Amundsen est le premier homme à survoler le pôle Nord le 12 mai 1926, à bord du dirigeable Norge sous la responsabilité technique de l'ingénieur italien Nobile qui a conçu l'aéronef. En 1928, Nobile s'échouera sur la banquise à bord de l'Italia. Amundsen disparu avec l'avion qui lui portait secours.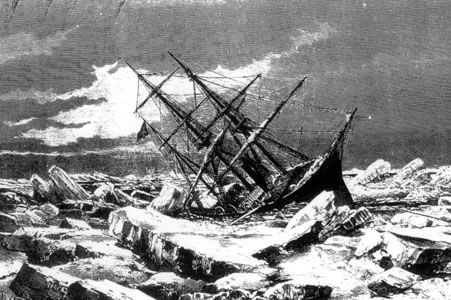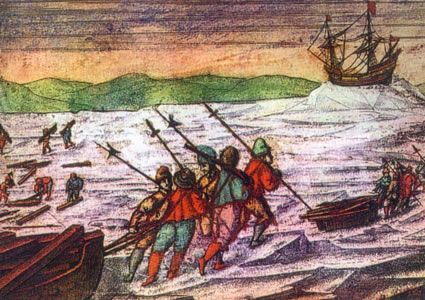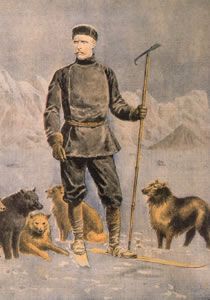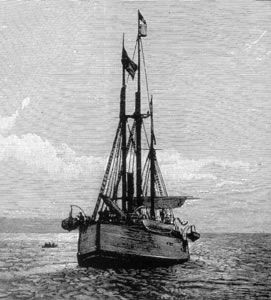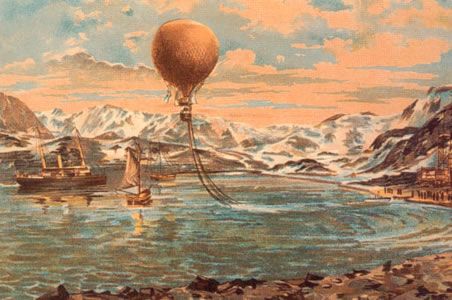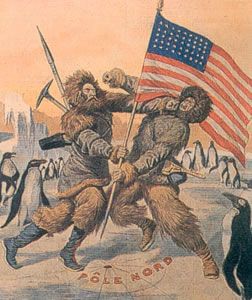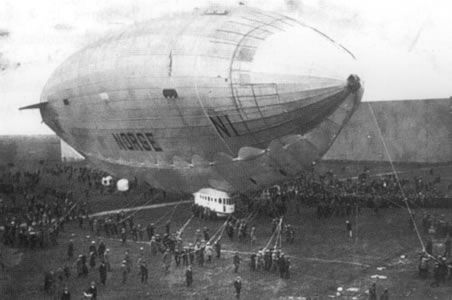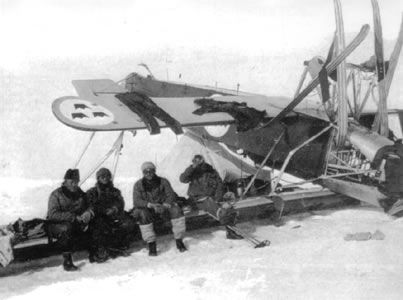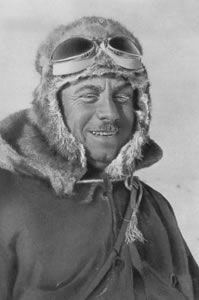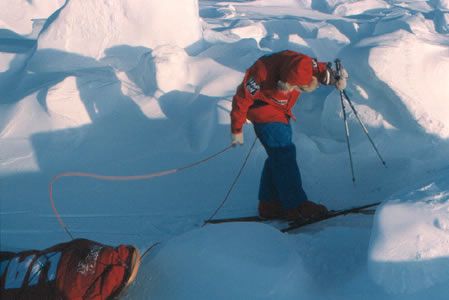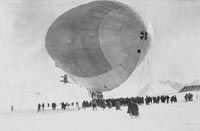 L'Italia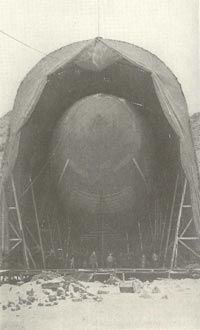 Polar airship America emerging from its Arctic hangar August 1909.
Support the project with a donation
The Polar Pod expedition is one of the stamp of the pioners, a human adventure coupled with a technological challenge, an oceanographic exploration never before carried out which will mark a milestone in the discovery of the oceans.

Thank you for your support !
Make a donation