THE ARCTIC ICE: CLIMATE ARCHIVES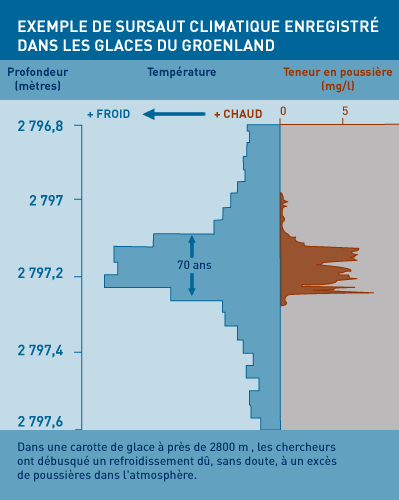 DE L'AIR FOSSILE DANS LA GLACE DES CALOTTES
Les calottes de glace continentale se sont formées par accumulation et tassement de la neige, au fil des années. La glace ainsi formée contient des bulles d'air, mais aussi toutes sortes de poussières atmosphériques (aérosols). Une fois prisonnier des glaces, cet air conserve la composition qu'il avait lors de son piégeage. Aujourd'hui, ces bulles, aérosols et pollens " fossiles " sont de précieux témoins des climats passés.
ICE CORES: VERITABLE TIME-TRAVEL MACHINES
Scientists frequently take core samples of the polar ice. The further the core goes down, the older the ice sample, so by analysing older and older ice the scientists travel back in time, gradually writing the history of the Earth's climate. A lot of data has been gathered by studying the Greenland ice cap, while the "climate archives" in the Antarctic have also yielded invaluable information.
THE GREENLAND ICE CAP
In the thickest part of the Greenland ice cap, glaciologists have extracted and studied core samples from as deep as 3,050 metres before they struck the underlying rock. The cores contain ice that fell as snow over the past 2,500 centuries! And of course evidence of various climate fluctuations: droughts, climatic catastrophes, periods of global warming, ice ages, etc.
OUR POLLUTION IS SEALED UP IN THE ICE TOO
The bubbles of air trapped in the polar ice show that the amount of methane and CO2 in the atmosphere has increased markedly over the past two centuries, i.e. since the beginning of the industrial era. The more recent ice in Greenland also contains much more pollution than ice from the Antarctic, because of the proximity of human activity in the Northern Hemisphere.
Support the project with a donation
The Polar Pod expedition is one of the stamp of the pioners, a human adventure coupled with a technological challenge, an oceanographic exploration never before carried out which will mark a milestone in the discovery of the oceans.

Thank you for your support !
Make a donation